OUTDOOR SOCCER REGISTRATION 2019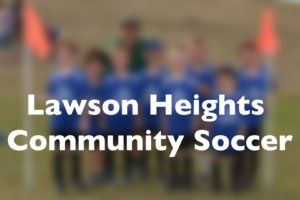 Register Online: Feb. 20 – Mar. 2 http://lawsonheights.goalline.ca or Kindersoccer. Late fees will be applied after March 2 15th.
👉 online registration has been extended until March 15, 2019
In-Person: Tuesday Feb. 26 from 6pm-7:30pm at Lawson Heights School
Community Soccer Season: May to June, weekly practices and games (coaches will determine practice days)
Age, Division, Fee & Games
U5 – Born 2014 (Coed) $65 on Mon/Tues or Fridays
U7 – Born 2012/2013 (Boys/Girls) $70 on Wed/Thurs or Fridays
U9 – Born 2010/2011 (Boys/Girls) $75 on Mon/Tues or Fridays
Festival of Soccer: There will be a Mini F.O.S. Tournament on June 7 – 9
Tim Hortons Wrap-Up Jamboree: U5 and U7 on June 23rd
We will need coaches for our Outdoor Season. Please let me know if you are interested. There is free training available to help you out with the soccer season. Let us know at soccer@lawsonheigths.ca
Zone U7 and U9 Development Soccer League: U7 and U9 players interested in developmental zone league may register with Hollandia Soccer Club. See http://hollandiasoccer.com for more details
---
Thursdays 6pm-6:30pm from May 2-June 20 in the Lawson Heights rink. *We will need a coach. Please let me know if you are interested. soccer@lawsonheights.ca
This program is here to give the youngest players the opportunity to develop fundamental movement skills like running, jumping, landing, kicking, throwing, and scoring in a fun setting built around informal play and positive reinforcement. An adult is required to participate with your child but not required to have previous soccer experience. Each child will receive a small soccer ball to keep.
---
What equipment will my child need? Kindersoccer does not require shin guards. U7, & U9 soccer does require shin guards but soccer cleats are not required.
Financial Support:
If the registration fees are too high for your family to register your child/children, you are encouraged to apply for funding from Kidsport. We have had a number of families subsidized in the past.
The LHCA also has registration grants available to make sure kids can participate. Contact us at info@lawsonheights.ca to learn more. All inquiries are kept confidential.
Save
Save